Recommended Screenwriters
ScreenwritingU Named Inktip's #1 Choice for Screenwriting Classes
January 4, 2012

Posted by:

HalCroasmun

Category:

Articles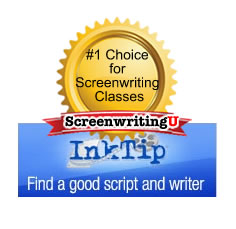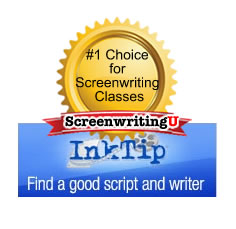 InkTip, award-winning website and magazine that matches screenwriters with movie industry decision-makers, has named ScreenwritingU, its #1 choice for screenwriting classes. ScreenwritingU offers professional online screenwriting classes containing information from in-depth interviews with the top 1 percent of Hollywood professionals.
Los Angeles, CA, January 3, 2012
ScreenwritingU, an award-winning, Los Angeles-based company that provides the highest quality online screenwriting classes, is pleased to announce its official designation as InkTip's #1 Choice for Screenwriting Classes. Named one of the best websites for moviemakers by MovieMaker Magazine, InkTip presents screenwriters' loglines and synopses to 30,000 producers, online and in its print magazine.
Jerrol LeBaron, founder and CEO of InkTip, says, "InkTip is proud to endorse ScreenwritingU as our number one choice for screenwriting classes and recommend their top-rated resources and services to our clients."
Hal Croasmun, president of ScreenwritingU, says, "I admire what InkTip has accomplished in this industry, so we're truly honored that they have designated us as their #1 choice for screenwriting classes. Like them, our focus is results. We conducted corporate training for 15 years before coming to L.A., working with McDonalds, National Car Rental, NASA, Bank of America, Apple, and 125 other major corporations, and those classes were often measured for return-on-investment by the companies we worked with. So it is natural for us to expect real results out of our classes. We've applied that same training design to help writers succeed in this industry."
Croasmun has distinguished ScreenwritingU as a leader in providing award-winning online screenwriting classes and career-building opportunities that screenwriters can find nowhere else. During the last ten years, Croasmun has interviewed over 500 Hollywood producers, managers, agents, and A-list screenwriters to design an "Expert Model" of how a screenwriter succeeds in this tough industry.
"We have helped over 130 screenwriters break into the movie biz," says Croasmun. "In many cases, reading the contracts they've been offered, and guiding them through the process of making deals with producers." See those deals at http://www.ScreenwritingU.com/buzz
ScreenwritingU's classes combine the convenience of professionally designed online learning and teleconferences with a virtual community of dedicated writers. Information on ScreenwritingU's scope and variety of avenues for breaking into Hollywood is at https://www.screenwritingu.com.
About InkTip
Established February of 2000, InkTip has one of the world's largest client bases of entertainment professionals; contributing to the more than 150 feature films produced, over 1000 scripts sold or optioned, and scores of writers gaining agency and management representation each year through us. http://www.InkTip.com
About ScreenwritingU
ScreenwritingU is a Los Angeles-based company with clients worldwide who are building careers as screenwriters. The company provides high quality screenwriting classes, teleconferences, newsletters, and articles; special events for meeting Hollywood producers, agents, and managers; screenwriting contests and opportunities for landing jobs; and access to exclusive offers from top script marketing sites, critique services, and coaches.
With ScreenwritingU's newsletter subscribers, clients, and social networking sites, the company keeps in regular contact with 100,000 screenwriters. ScreenwritingU's vision is to offer the most organized and effective track from first draft to entry into the movie industry, including its award-winning classes, and alliances with highly regarded screenwriting teachers, software experts, and access to the industry.
ScreenwritingU's founder and president, Hal Croasmun, has been a featured speaker at multiple conferences, including major industry gatherings such as Screenwriting Expo, InkTip Summit, Austin Film Festival, among others.
Script Magazine named ScreenwritingU number one in its list of Top 10 Screenwriting Courses. TomCruise.com says, "The professional advice and training offered by ScreenwritingU – both as an online news source for screenwriters and a professional school with online classes – gives aspiring writers the opportunity to learn more about their craft regardless of where they live in the world.